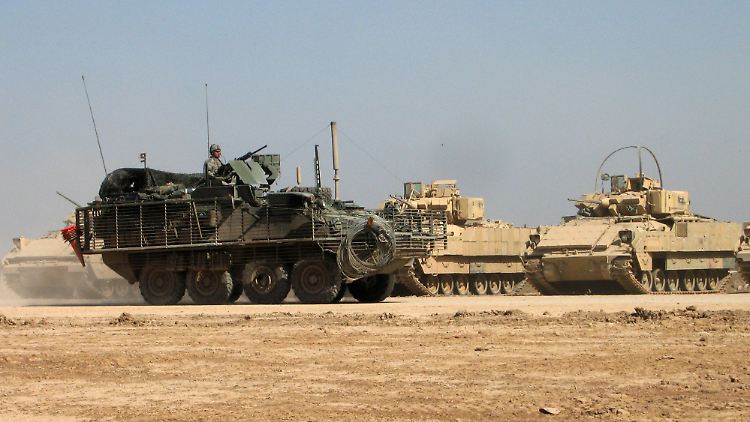 USA Supplies Infantry Fighting Vehicles To Two Brigades
Shortly before the meeting in Ramstein, the US is releasing a new aid package for Ukraine. Bradley and Stryker armored personnel carriers are included. However, Abrams tanks are not included.
Aid From US Government
The US government is providing Ukraine with more billions in military aid to ward off Russia's war of aggression. The US Department of Defense announced on Thursday evening (local time) a package worth around 2.5 billion US dollars, the equivalent of 2.3 billion euros. According to the Pentagon, it contains 59 Bradley armored personnel carriers and, for the first time, 90 Stryker armored personnel carriers, Avenger-type air defense systems and ammunition – but no Abrams main battle tanks.
Washington had already announced a first delivery of 50 Bradleys last week. Together with the other Bradleys and Stryker vehicles that have now been announced, two complete brigades could be equipped, the Pentagon said.
It is the second-largest single package of its kind to date. The announcement comes shortly before a US-led coalition meeting at Ramstein Air Force Base in Rhineland-Palatinate today, where defense ministers and senior military officials from numerous countries discussed further support for Russia's advise attacked Ukraine.
According to Ministry
According to the ministry, the delivery of American Abrams main battle tanks does not currently make sense. The Abrams requires different fuel than the Leopard 2 or Challenger 2 main battle tanks and is expensive to maintain, Pentagon spokeswoman Sabrina Singh said on Thursday. The Abrams had been discussed after it was reported that Chancellor Olaf Scholz had made the delivery of the US main battle tank a condition for a possible dispatch of German main battle tanks.
With the new package, the US has provided or pledged more than $27.4 billion in military assistance to Ukraine since the beginning of President Joe Biden's administration, according to the US Department of Defense, more than $26.7 billion of which since the start of the Russian war of aggression at the end of February. The United States is considered Ukraine's most important ally in the defense against the Russian invasion.
This article is originally published on n-tv.de